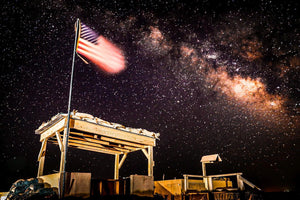 Reorienting your life in every possible way for success
18 Series Bag Company – SITREP 017 – 26 March 2022
Reorienting your life in every possible way for success
In our ongoing series highlighting the Special Forces soldiers that have transitioned to civilian life, we travel to North Carolina to write about the warfighters of the 3rd Special Forces Group (Airborne). For those that don't know, 3rd Group is the go-to SF Group for getting the job done. Because of their, 'Have Gun Will Travel' cultural attitude, 3rd Group produces awesome, resilient men. As my friend Mike McDermott counsels me, that unlike a mission in the military, business is a game of inches that never ends, there is no end-state, you just have to keep moving forward. This seems like a perfect analogy for the entrepreneurs of 3rd Special Forces Group (Airborne).    
CAP VERDE Contracting
What started as a potential handyman gig, during an academic gap year, turned into a successful commercial contracting business in less than a year for founders Eric Crawford and Jerry Millan (also Special Forces). These two guys are great examples of SF guys finding their step after the Army. Both men noticed that the market for local handymen was very profitable, but the catch was that they paid a fee to the company that created the online handyman marketplace. "So much happened in 2020, we wanted to buy the dip on the economy", so, they did. They built a strong network of reliable customers to secure profitable work and valuable experience during their startup phase. Now they're off and running in a full sprint. 
Eric began his Army journey as an Electronic Warfare analyst (see below for another trained 35 series), finally taking the Pepsi challenge and making his way to 3rd SFG(A).  Like all the other great SF soldiers, Eric is a Special Forces Medical Sergeant. With multiple deployments under his belt, Eric recently switched over to the National Guard to co-found CAP VERDE contracting. Since that time, CAP VERDE Contracting has built relationships to secure lucrative commercial contracts, became a crucial vendor for a local luxury apartment complex, and done some remarkable renovations. Eric and I have a similar philosophy, he stated, "This isn't just a profitable endeavor, it's part of rebuilding our local communities." When asked what stood out the most during his time in SOF, Eric replied it was the mentorship, "The diverse talent pool compelled me to be creative and adaptable and to concentrate that talent on mission success." If you're in the Sandhills region of North Carolina and in need of a a commercial contractor, give Eric a call at 610-203-5995.
DOL Creations
Another 3rd Group alum is Joshua Avignone, from DOL Creations. After faithfully serving Special Forces for 19 years, Master Sergeant Avignone decided to retire and pursue creating art out of wood and lasers. DOL creations specialize in creating awesome plaques for PCS and retirement gifts. SOF guys like plaques and the reasons are simple. You could spend your entire life on a single team and no one, not one guy, would ever compliment you. It's just life on a team. It's all about keeping guys grounded (or something like that).  Team life can be brutal and unrelenting, the place where 'Truth-Joking' is a thing. That's where the plaques come in. When you absolutely can't show your appreciation for a teammate during his time on your team, you get him a plaque to show your gratitude. After screwing a demonstration up in front of our African partners, my first senior weapons teammate once said to me, "Matt, do it right and not one guy on this team will tell you good job. Screw it up, and we'll fight to see who can be first to kick you in the balls the hardest." Thinking about it, I should have put that on his plaque.  
Josh has a laser system that allows him to engrave virtually any material. Leather? Check. Glass? Check. Metal? Yup. Check out his Instagram page @DOLCREATIONS and you'll see awesome examples of his work. His woodworking skills are remarkable. I asked Josh where he learned his skills and he said that his grandfather had taught him with old hand tools, then modern power tools with his father. Like other SF guys, Josh took advantage of educational opportunities the Army offered and learned Computer-Aided Drawing (CAD) and Computer-Aided Machining (CAM). So, armed with skills and a great reputation in SF, he opened his shop in Fayetteville, and DOL Creations was born. You can check out DOL creations on Instagram @DOLCREATIONS or stop by his shop located at 26 Mockingbird Lane, Spring Lake, North Carolina. 
Soldier Systems Daily (SSD)
Special Forces would never achieve the spectacular things it achieves without the talented enablers within each group. While we've all worked with soldiers that needed extra training, the majority of the non-18 Series personnel in any SF Group are a cut above the rest of the Army. Last week, I poked fun at our 35 series soldiers because I've had dozens of them work directly for or with me. They are the most dedicated MOS in every SF Group.
Since starting the 18 Series Bag Company, I've developed relationships with some great people. One of those people, Eric Graves, was a pre-GWOT 35 Series (then 98 series) in the 3rd Special Forces Group. Eric transferred over to the Air Force after his six years in 3rd Group, ultimately retiring from big blue and starting Soldier Systems Daily. What started as a hobby in 2008 became a real business in 2009, and we're all better for it.  If you have never been to the soldier systems website, make it today's priority.  It is the Encyclopedia Britannica for gear.
What makes his website great? It's Eric's deep understanding of the industry. He attends a LOT of industry events, speaks with hundreds of industry experts, and because of his access and placement, hears about new gear coming down the pipe. Military folks need to trust their gear. SSD provides a jammed-packed, searchable website that lets users find the kit they need, read reviews, and move out more knowledgeable than when they started. A couple of years ago, I wrote a paper on the Army's decision to move away from the Beretta 92 pistol. Fist and last place I went to was the Soldier Systems website.  I searched about nine different postings and finished with an email to Eric. I eventually just cut and pasted his response into my paper. Thanks to Eric's response, I sounded like a pistol historian and received an A (the grade's already been reported, do-gooders!).
I spent three great years as the Force Modernization OIC at 10th Group. My small band of rebels would talk about SSD every week. It was a great place to get started when requirements emerged. I recommend any gear nut, acquisition or logistics professional, or anyone looking to make a purchase to check out Soldier Systems and start your research there. It is where the professionals go. You can also find them on Instagram @ SSD.Collection.
While putting these guys into my sitrep something glared up at me. Whether they stumbled upon it, were trained by previous generations, or simply grew a hobby into a business model, these three great Americans reoriented their lives after the Army to increase their probability of success. They did it with the community in mind. CAP VERDE contracting physically rebuilds their community, DOL Creations creates lasting keepsakes that memorialize your best years in our community, and Soldier Systems creates the digital community for us to meet and discuss. I think it's awesome, something I'm trying to add to myself. 
Always forward.  - Matt 
@18SeriesBags
This week's SITREP is dedicated to my late friend, MSG Ryan Groh. Ryan passed on Friday, March 18, while doing what he loved, riding his dirt bike with his son Cooper. I recently asked Ryan if he could help teach my boys how to ride this summer. It doesn't matter now, they'll ride like hell because of you. 
 - Image courtesy of the 3rd SFG(A) PAO
 NEXT SITREP - "There is no hunting like the hunting of man, and those who have hunted armed men long enough and liked it, never care for anything else thereafter."
---
3 comments